With one-day online meeting, the CHESTER consortium has marked its four-year and a half progress. The H2020-funded CHESTER research and innovation project is finalizing the development of the cost competitive innovative CHEST system. The technology will allow for energy management, storage and dispatchable supply of many different renewable energy sources.
Accelerating progress
On November 2021, the CHESTER consortium has marked four year and a half of its research. To summarize the project updates, the consortium met virtually during a one-day consortium meetings.
During the meeting, the project coordinator Tecnalia gave a welcoming address to all partners. The discussion continued with a follow-up on the management and financial aspects of the project towards the technical progress.
Due to the COVID-19 pandemic crisis, the consortium is considering a continuation of the project.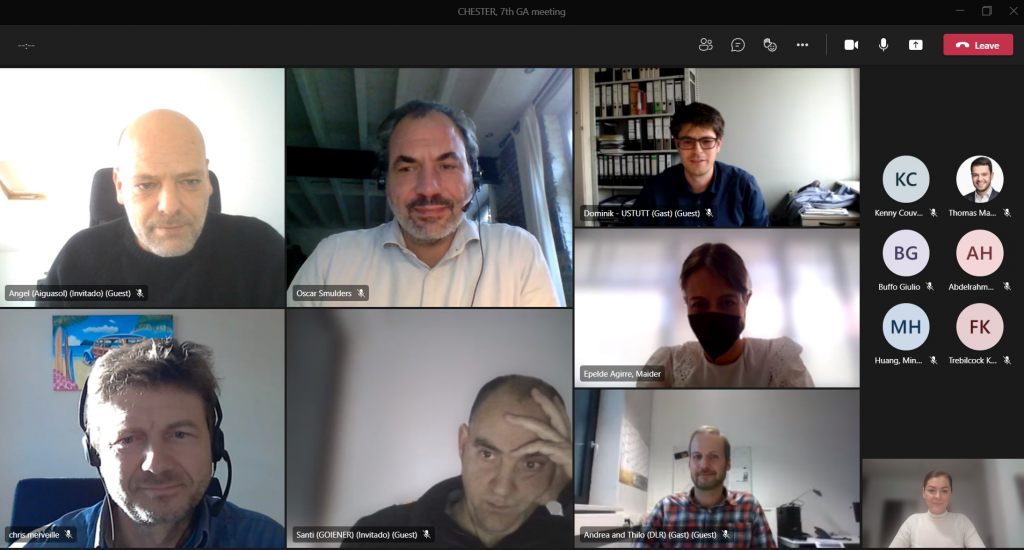 About the project
The idea behind the project is to combine an innovative power-to-heat-to-power energy storage system, so-called CHEST technology (Compressed Heat Energy Storage) with Smart District Heating. This approach would lead to a very flexible and smart renewable energy management system.
The CHESTER system is expected to:
store electric energy with the round trip efficiency of 100% or higher;
be site-independent unlike pumped hydro, cyclically stable unlike batteries and cost-competitive;
convert power into heat, and renewable low-temperature heat into power;
store and supply heat and power independently from each other.
How it works?
The CHEST system is based on the existing technology (heat pump, thermal storage and ORC). However, ground-breaking advancements are currently developed to improve the efficiency and cost competitiveness.
The CHESTER project will develop a smart system control strategy, including the implementation of forecasting models. It will allow the system to use the energy in the most cost efficient, technically appropriate and flexible way.
The enhanced CHEST technology could reach the market by 2025. When implemented at large-scale plants could offer energy at a very competitive cost of 130€/kWh.
Newsletter subscription
Don't miss the next project progress and subscribe for the project newsletter.