On April 2 and 3, 2019, CHESTER partners came together to commemorate year 1 of the project and to exchange progress, challenges, ideas and plans for the upcoming year.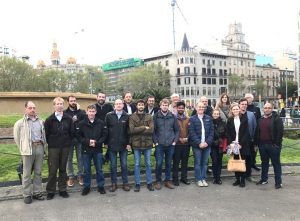 Discussing the results of Work Package 2
On the first day, partners concentrated on Work Package 2 for which a great deal of work has been completed, and which is now fully finalised. Partners PLANENERGI, DLR, TECNALIA, AIGUASOL and UPV have performed extensive case studies, built and ran a CHESTER simulation model and summarised overall CHEST system requirements. The work delivered has been discussed in greater detail as it impacts the future work of other WPs that concentrate on building the lab prototype and calculate the system specifications.
Developments of individual technologies in Work Package 3
An important part of the CHESTER project is the development and advancement of the individual technologies that make up the CHEST system. Significant progress was presented during the general assembly and a separate technical meeting was held after the general assembly, to discuss specific issues with respect to the integration of the systems and how to best collaborate in the coming six months.
Work Packages 5, 6 and 7 and a peak into the future
Day two evolved around Work Packages 5, 6 and 7, where various deliverables have also been submitted within the first year. With the completion of work package 2 and developments of the individual technologies in work package 3 well underway, work package 5 (the CHEST lab prototype integration) is expected to kick into gear in the next few months. Preparations in the lab are ongoing and components are ordered and arriving. The partners are looking forward to testing the CHEST system and validating the modelling and simulation work.
Work on the market and business opportunities (work package 6) is progressing with the development of a combined technical and economic model that uses the results from the other work packages. Real-world business cases are expected in the next six months.
The communication, dissemination and exploitation activities are in full swing, with a detailed plan finalized in March and presented during the general assembly. As the project progresses, key exploitable results will be shared through a multitude of channels.
The next six months will be an important stage for the project, as the individual technologies and the modelling and simulations will start coming together. It will be exciting to see the system put to the test and hopefully live up to its full potential.